Ten days ago, Ornji wasn't eating and losing weight. I immediately thought back to my first three cats, Juicy (HIV-Aids), Dorian (FIP-Feline Infectious Peritonitis) and Kevin (FELV-Leukemia) and the doom and gloom that followed when they stopped eating.  After ultra sound showed Ornji with large liver tumors I thought that maybe this was more bad luck; after all, I'd taken on Ornji knowing he was FIV positive with a weakened immune system. Yet, he had lived mostly outdoors the past three years with no problem. Trying to be positive, I rationalized that Ornji and I had three-plus good years together since that wonderful moment he came  up to me in my yard on 9/11/12 with a look in his eyes telling me he was homeless and would like to live here.)  We had so much to look forward to, including making Ornji an indoor cat – he had been staying outdoors and in the basement at nights- and a friend for Zack, my indoor cat of five years who had lost his last two friends, Weepy and April, a few years back and would love a new feline friend.
Not waiting around to take  Ornji   back to my current and wonderful vet following a dental cleaning after which Ornji started becoming lethargic, ultra sound showed him with a large liver tumor. Over the next days I couldn't BUY  a positive comment out of anyone, only a 'let's wait and see' how Ornji responds to some antibiotics and appetite stimulant, but, realistically, I was getting mostly sympathetic but somber looks from the vet techs- and worse. But, when I finally got to speak to the doctor who could oversee a possible surgical procedure, in  Dr W I heard a degree of hope in her voice, that livers CAN regenerate – if not too much is damaged, and, yes, they can be operated on if there is good reason, BUT….
As soon as Dr W said that surgery was possible  I interrupted her and said 'yes,  we'll try it.' I knew Ornji had a strong will to live. But Ornji would have to start eating and be strong enough for surgery – perhaps a major task. Doctor suggested waiting a few days and see how   Ornji might respond to a couple 'shot in the dark' antibiotics that had been given us when we returned to the vet a second time after Ornji wasn't eating. That was a key time and glad we were proactive, because, that Monday night 5/9/16 we were not only given the antibiotics, which Dr V admitted were probably a long shot since an infection was unlikely, but at least  'Sub Q' fluids would make Ornji feel better after not drinking. The SubQ fluids are no easy feat to administer , but I had given them 10 years earlier to Pucky dog, who would live another year thanks to them. So, armed with   the antibiotics, appetite stimulant and sub q's we went home   with positive thoughts.
SUB Q FLUIDS
I was able to administer the sub-q fluids even better than I had with Pucky after rigging a 'drip system'  from a towel rack and was good at getting the liquid antibiotic via syringe in Ornji since I'd been administering a similar one for his liver the past year, quickly placing the syringe in the corner of his mouth. Ornji was used to this and maybe even enjoyed the fish flavored emulsion that came with the antibiotic. Yes, there was no change in Ornji – still not eating on Tuesday– but I did notice that he was more engaged in the morning. Since he wasn't eating I force-fed him small amounts of baby food throughout the day via another syringe. I had remembered that baby food and tuna are last ditch efforts tolerated or even enjoyed by pets. Ornji seemed to keep that down except for once when I gave him too much in my effort to fatten him up. Even so, he just wasn't getting enough food. However, I noticed how receptive Ornji was being, for the most part, as if he KNEW he was sick and wanted to get better. I also noticed he tolerated the sub-Q fluids better in the early morning rather than in the evening, perhpas , when he was more awake.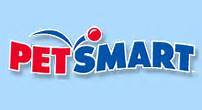 I figured we had another day, maybe two, to get Ornji eating before tentative surgery on Saturday. We were following all instructions to a 'T' and did everything possible to keep Ornji's stress down while attending to him with frequent   TLC. Then on Wednesday, lo and behold, something kicked in –either the sub-qs or antibiotics -or both- because ORNJI STARTED EATING on his own! And, he continued eating right up until impending surgery date. However, he still wasn't drinking but I thought the wet food might have enough water in it to keep him satiated; he had been quite dehydrated last at the vet Friday night.  I literally didn't leave Ornji alone more than an hour or two over the next days, as Ornji stayed in his customized cat bird seat in a big dog cage I placed in his private room's window, where he could get a little stimulation from the birds. It was a trick to keep Zack away from ornji but , fortunately, Zack  is a kind, cooperative cat, if a little curious – aren't they all!
Since I hadn't heard about scheduling surgery, I decided to be proactive, again, and left a message for the doctor. Late Friday afternoon I got a call a very nice tech, 'S' – and messages from Dr W – offering a Saturday morning surgery appointing for Ornji. Yes!  I was excited and grateful just at getting the opportunity , even if   Ornji was later to be found too far 'gone.'.  After a long night when I don't think either of us slept, I brought Ornji in an hour or more early Saturday morning. Ornji   had actually gained a half pound since his last visit on Monday but they determined he was anemic and would need a transfusion before surgery, which had to be delayed until noon.  We were both surprisingly calm. I was thinking that because Ornji was eating so well, it might have been the infection that was being rectified by the antibiotics – which was our best chance, over counting on the liver, by itself to cooperate.  In any case, the surgery was deemed successful, even though some of the liver could not be removed at this time.  A final biopsy would also be sent to the lab, but Dr W was pretty sure Ornji could carry on for some time!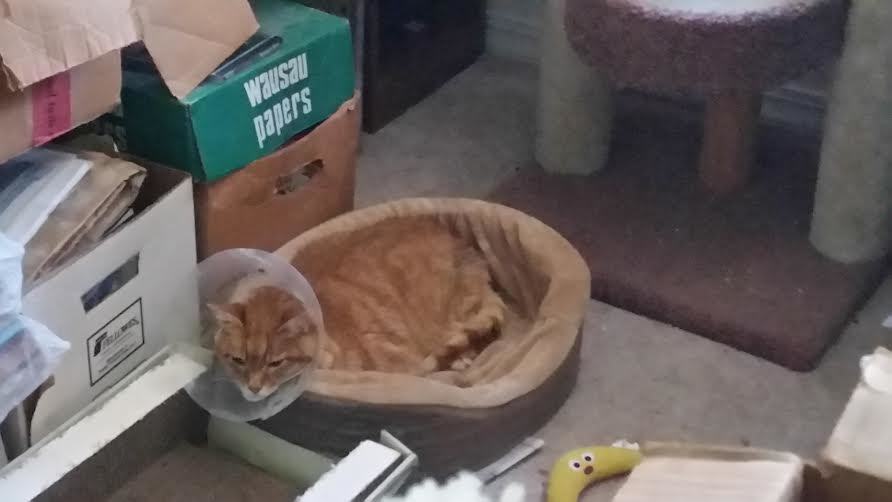 GRATEFUL  BEYOND WORDS
After all the past misfortune losing my first three male cats, as noted- not to mention losing my entire family including brother and sister to cancer over the past 15 years- it was especially gratifying and rewarding to see Ornji bounce back. He and Zack were the last of my family. In fact , it hadn't been all bad. Since coming to Encina Vet, I'd seen Pucky get another year of life, as noted, and previous cats, April and Weepy see their lives prolonged to ripe old ages of 18 and 20.And, Zack, too, had been on death's doorstep with fatty liver disease when I swooped him off a foreclosed home's doorstep, but survived thank in large part to Encina's amazing staff of caring  specialists.
Don't forget to give Ornji extra credit. He hasn't complained at all, really, about the cone over his head. (Pets are known to adapt to things humans would complain about.) Ornji has figured out now how to eat – and drink- with the collar on, and just this morning I noticed how he has figured out of 'back out' of the closed litter box which allows little room to turn around with the collar on.
I've started letting Ornji come out of his little room during days, and he seems to enjoy the numerous scratching posts and 'food and water stations' scattered throughout the house, easy to find. Remember this is a smart cat who, when he first came to me, led me to the outside basement door where he indicated he would like for his nighttime home.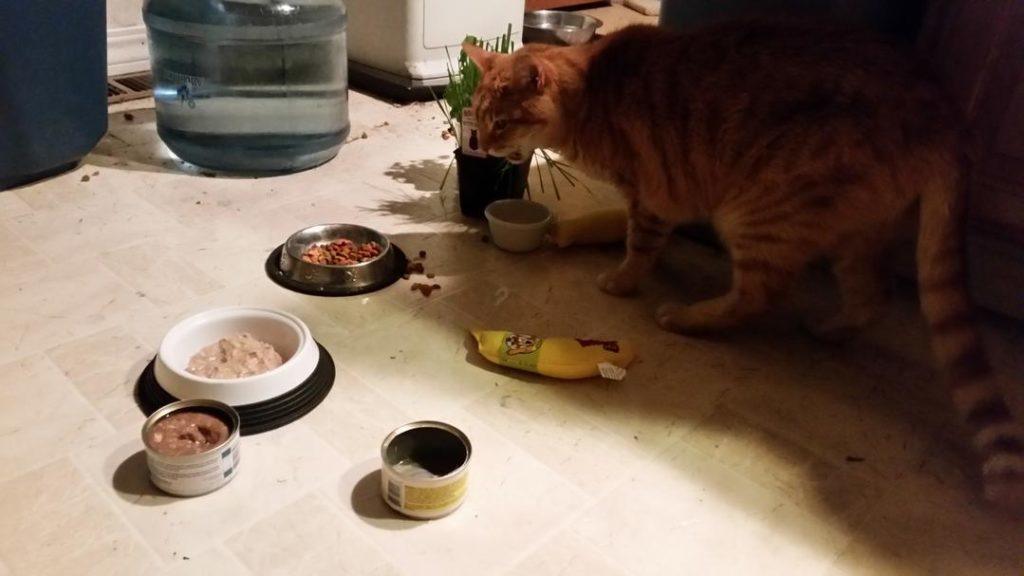 Ornji enjoying his smorgasboard before
ORNJI SHOWS HIS GRATITUDE
Ornji also shows his gratefulness, coming up to me for food -wherever I may be – or  for a head rub, cone or not. I just have to guess which of his favorite  three or four foods he wants at the time. If I guess wrong, I just open another can- I've gone thru as many as four in succession, but that's ok. I usually get it right now, rotating from last meal.  Even though he is still slowed with the cone and obvious muscle weakness, you can see the  spark coming back to his eyes- and quite abit more walking around the house.  Perhaps glad there's not TOO MUCH movement,less to rip the staples still in him. And, best of all, his great, renewed appetite, alone, shows that he is feeling better. And, Ornji, hasn't asked once to go outside, which he'll probably never see again-after this.  And, he may no longer even desire to go out into the elements again, hopefully.
By all means, we must thank the many involved, who helped make the good news happen…
Dr W, who orchestrated and arranged surgery at last moment, Dr C, surgeon, Dr B, anestesiologist,
S, tech who probably did more than anyone helping the process move along while keeping all parties calm and hopeful,
Dr G, on emergency the night we first brought Ornji after slowing down after dental work and then , again a week alter, for going out of her way for us , more like a friend than a doctor,
Dr V, who helped us getting the subq fluids and antibiotics going in time to 'bring back' Ornji,
C, V and others at the front desk for putting up with our countless calls and querries.