Ornji  Cat Survives  Another Round of Chemo AND  3 Alarm FIRE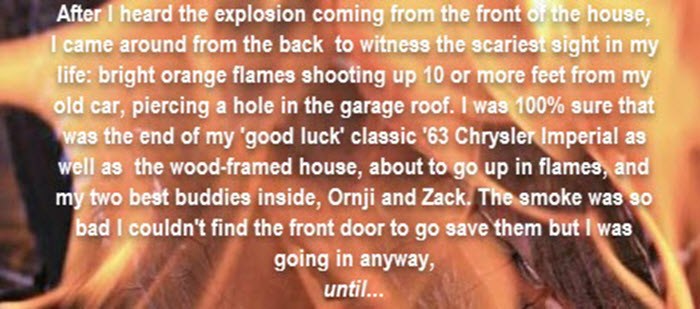 This is a true story. None of the names or facts have been changed.
12-8-16
Just got good word from the doctor a few minutes ago that Ornji  passed his third and latest round of chemo, after having had  some difficulty the previous round. But the bigger news, for now, is the fire – no, not THAT fire  but our own private fire the day after the big one; not that ours couldn't have been A Big One.
Maybe I spent too much time watching the tragic news of the Oakland fire in which dozens perished, or maybe I didn't watch enough as I witnessed our own  conflagration on my property which    very easily  could have added to the number of weekend  fire victims. Though nothing in scope compared to the 'Ghost Ship' fire, it was definitely ALARMING (3 alarms at that) and could and would have been worse but for one thing. It's a case when the human element failed  but an inanimate object saved the day!
As perhaps not so smart as to have kept an old relic of a car in the garage that required a maintenance battery charger,  it was a smart move that I made 20 years ago when I bought this home instead of two others, in Lafayette,  that probably saved the day (for reasons you will soon learn).
Early Sunday morning,  talking by phone to a friend who is a car buff, I was reminded to keep my old '63 Chrysler Imperial from sitting   idle too long  in my garage; so I decided to boost charge it since the maintenance charger had stopped working; I would let it run for 20-30 minutes to complete the charge before taking it out on the road. Normally I took it out once a month but this time I hadn't drove it in months and, frankly, I missed driving 'Carhuna'  and thought I'd take it out this day, despite the overcast , cold, gloomy weather.
But before I could do that I must 'boost' charge it as the maintenance charger had shut off so I used  my handy dandy little  'Magic quick booster'  , which suddenly engaged an otherwise dead engine. I let the engine run while I was on the side of the house   feeding the birds and watering.  I'd charged batteries   many times before… just letting  the engine run for awhile…and didn't expect anything unusual this time.
Then , on an otherwise uneventful day (other than the fire news from Oakland), around three p.m. I suddenly heard a 'BOOM'  as in EXPLOSION!  Sounded like it was coming from the front of my house where the car was charging.
Quickly,  I ran around the side of the house  and as I turned the corner I saw massive bright, orange flames shooting high, 10 feet or more,  piercing the garage ceiling as smoke   billowed in all directions. I started to the front door of the house –the only entrance other than the garage – to rescue my cats , but there was NO WAY!  I couldn't even SEE the front door behind all the smoke. Fortunately , I had my smart phone to call emergency but my fingers weren't acting VERY smart . Now in full panic mode I could barely push '9-1-1';  knowing MY phone and luck this would probably be the time I would get a busy signal or it wouldn't go through.  Finally, a very slow talking operator answered, repeating   the same questions as the seconds and minutes ticked by.  ' What – Is- Your- Add-ress '  she asked, after I had already given it to her. 'Is any-one in the house' she asked after I had already said there were two cats. Finally off the phone with her,    I waited for my only hope – that the fire trucks from the fire station just a half mile away  would arrive in seconds. That's all that time would allow as the fire appeared to be spreading to the roof, with smoke everywhere .  The firemen appeared the only hope of saving my house and pets.
Checking my watch it was 10 minutes since I'd called emergency and the firemen hadn't arrived. What was taking them to drive five blocks?  I would have to break down the door and go through the smoke if they didn't come in the next minute as the flames continued to rage and my (ADT) alarm  bells were now disturbing an otherwise quiet afternoon.  Finally,  a local Lafayette cop drove up, running down from the street carrying a small fire extinguisher.  After getting closer to my car in flames he laughed,  realizing there was no chance for that puny thing to extinguish  what was now a full-blown blaze . He then seemed to disappear back from wherever he came, contributing nothing, as the fire raged on. Back to square one.
I couldn't believe how long it was taking the firemen to show up, considering the fire station was only blocks away.    Just my luck. Probably someone else is having a fire or they're over at  the Oakland fire cleaning up.  It had to be already  15 minutes by now when it should take no more than two minutes to drive five blocks.  I had no idea what was going on inside the house. If it was like the garage it was a smoky grave inside.  I was too much in shock to be upset, yet.  I couldn't believe what had transpired in minutes. Life went from   another pleasant Sunday to  what appeared to be another Ghost Ship  but on a smaller scale.
Still no  firemen and  that lone policeman appeared gone, leaving me alone with a fire about to burn down much of my life and cats before my eyes. Were Ornji and Zack   even still alive inside at this point?   I was a helpless wreck. Everything was happening so fast..or so slow. I was now coming out of shock to realize this was probably the worst, scariest moment of my life;  here I am  about to lose my house and beloved cats…It was a feeling of pure helplessness and frustration words can't describe.  But, then something amazing happened…
THE FIRE STOPPED!  And, yet the house structure was still intact.  Was everything burned up inside or….?  The smoked subsided enough for me to at least peek in the front door, which I could now see without the black smoke.   With no firemen or anyone in sight,  I ran to open the door and, lo and behold, there was little smoke in the house and I was able to run and grab   Zack and Ornji. Fortunately, their crates were close by – just in case something like this ever happened .  First I found Ornji  cowering in the corner of his room and I was able to grab him  and stuff him in his crate as I ran to  the patio through the side patio door, where I was able to get around the 'outdoor extension' cage and leave him in the safer , outdoor patio area. Then I found mild-mannered Zack and got him in his crate and ran him to the patio next to Ornji.  I sat with them very grateful just to see them alive ; we just waited  there together  as the fire trucks finally rolled up,  sirens blaring.
Not to be ungrateful  but honest, I could see no value at all in what the firemen would do next. The fire was already out and here they are arriving late and asking me inane questions while shutting down all my power, which wouldn't get restored for days. We had to wait, wait, wait until they finished their 'fun and games.'  I saw absolutely no redeeming value in the actions of these 10 or so firemen. Even though the fire was out they still broke    my front door, tracking soot and dirt all through the  house as they threw furniture and clothes… I'm sure there were good reasons – that they wanted to make sure the fire was truly out and hadn't spread.  One positive  I did learn from them was that I had an attic in my house I never knew existed in the   20 years I'd lived there.
The firemen also , as previously noted, turned off my electricity and gas, which I would have great trouble restoring for days, as you will learn…
I continued waiting on the patio side of the house with Ornji and Zack while the fireman did their thing. Whatever that was. Not a whole lot, in my opinion. Other than telling me I had a lot of work ahead of me, including contacting the city of Lafayette to do an inspection before the  power could be returned.
…and that wasn't going to happen on Sunday.
COLD SUNDAY NIGHT
It was a cold Sunday night without heat. You'd think the city or fire department could at least have arrange for heat after all we'd been through and considering sick Ornji. Maybe they were afraid of another fire brfeaking out.  It was bad enough to suffer a fire during the day but to let us  be  left in the cold with a sick cat was a bit much. Apparently others at PGE and elsewhere agreed, but nobody could do or did anything after my repeated pleas to PG&E and the fire department .
Then, long after the fact, I get a call from ADT alarm to tell me 'we heard three alarms' .  Thanks again. More   incompetence. Why THREE alarms? Because that's how many weren't answered on the first go around , I supposed. Why else would it take the firemen so long to drive a half mile from their station down the street?
The  firemen finally left after standing around for over an hour with their trucks blocking the streets, perhaps doing more harm than good with upset drivers having to turn around and drive miles out of their way. I guess this is government in action with folks getting well paid for doing little or nothing.  Not to be mean, again, just honest.  At least they were nice. But, they certainly didn't add to our joy, besides  letting my house nearly burn down if it weren't for the FIRE SPRINKLERS; they broke the front door so I had to get a new spring bracket at Ace Hardware that Sunday night so the cats couldn 't escape a door left open by mistake.
Fortunately, the house was still livable after the firemen DID run blowers to suck out what smoke there was in my house. However, they left black soot and footprints on the hall carpets and threw clothes and things around so I couldn't find them. But, I guess that was the least of my problems. Getting the electricity and gas turned on WAS a problem.
MONDAY, DEC 5 – BUREAUCRACY IN ACTION
I  awoke – or, shall we say, arose to the sound of phones and doorbells ringing  .  I hadn't been able to sleep all night, what with the cold and checking on the cats to make sure they were o.k. while  finding creative ways to stay warm  ; after  bumping into things in the dark I just lie in bed  listening  to a transistor radio like I used to do as a kid.
It was around  8 am  when the sound of cars outside my window and phone calls got me out of bed. I hoped one of the calls was from the Lafayette inspector who I had left a message for earlier, but , instead, it was one of several 'fire chasers'  looking for work ,  i.e. cleaning up after fires. Well, if not fire  chasers but people wanting to capitalize on the tragedies of others… Maybe that's being a bit harsh, but which I later learned was a common thing; now one of them wouldn't even leave, hanging around for hours expecting to get the   clean up job.  Another guy seemed more legit and I actually signed with his company to do cleanup after learning my insurance worked and recommended his restoration company.
ELECTRICITY BUT NO GAS-
I did also get a good tip from this second restoration guy. He told me it wouldn't harm anything to switch back on the electric since the fire hadn't spread -and he showed me how to do it; actually, it was the fire department that had showed me but also told me not to turn it on. Go figure.  So, at least now I could have electricity but who knows how long it would take for the inspector to come out and enable the more important gas we needed to heat the home.
Monday, first thing, even before the 'tragedy salesmen' came calling,   as noted before I had called the city inspector to come by to inspect mainly so I could get my gas turned back on.  That was something I couldn't do myself, nor turn on the pilot lights.  I was assured I'd get a call back right away. I had a funny feeling.    Three hours later I still  hadn't heard a peep from the inspector. It was then  I decided to  go against what the fire chief had told me, NOT turn on the electricity until the house was inspected by the city of Lafayette as I would need electricity for space heater it looked like I would be needing.  It had been hours.
It was already afternoon and I thought I'd call a fourth time to the inspector, not to mention three times I called the receptionist who had  told me the inspector would call me right back.  Are you still following?  This time I actually got a live voice rather than voicemail from the inspector. It was   he, who admitted he 'forgot to check my voice mails this morning.'   This is the head man in the 'inspection department' who many rely on admitting to me he's about to make us sleep without gas heat  another night. At least he was honest.
But, it's not just a matter of having him or someone come out to inspect.  First,  I would have to go ' downtown,' such that it is , and file a report. It's already pushing 3 pm with the city offices closing at 4:30 pm (it gets earlier each year).  That would leave little time for an inspector to come out this day – and they told me as much when I got  there.
Another Cold Night?
Still in the clothes I'd slept  – having hardly a moment to change or wash all day with so much going on –  I headed downtown to file the inspection report.  Now Lafayette is a small town but they have managed to hide the inspection office so well it would take me an extra 15 minutes to find it;after asking several people I finally got a correct lead –and a laugh (yes, he thought it funny too how well they had HID this office.  Finally, when there I'm greeted by a man in a 'tidy whity'  t-shirt who looked more like Joe Jones on vacation in Florida preparing for a summer outing rather than a city  worker. He probably had Bermuda shorts on, too, not visible behind the desk.
He and the other  two desk clerks, equally dressed down, all seemed to know who I was  and even TT, the man in charge, who eventually made an appearance, himself.  I tried to be calm and cool, even giving them my famous Million Dollar bill$, hoping to find anything that would get them off their duffs even if it took a bribe. I tried to retain my cool and even got along with TT who said he normally wouldn't but this day would attempt to get a inspector out there to my house this day  in the short window of time that remained (After all, it was his fault for not checking his emails –and this after the receptionist had assured me he would.) Only problem, PGE was closing shortly, too,  and they would have to receive the clearance report from the Lafayette inspector  first in order to turn on the gas. Are you still following this bureaucratic nightmare ?
To make a long, frustrating story less long, the inspector DID show up just before 4:30, but as Murphy's Law would have it, his inspection report, which passed, never would get to the PGE party in question by closing time.  Even having watched the inspector email the report with time to spare, PGE said they didn't get it when I called shortly later and before they closed.   Nothing would surprise me now. The main PGE offices are closing any minute and without the inspection report they're not going to switch on the gas- and that's what a couple clerks and supervisors  have told me to my face. Another unnecessary cold night is looking more like a reality for me and my sick Ornji and Zack.  Even going to the 'top,'  PGE supervisors were no more helpful or kind than their workers, all agreeing that the gas could not come on without the inspection report, which should  have been to PGE by now. ( I would later learn from contractors that city inspectors were notorious about not answering their phones and the trick was to get their cell numbers and call first thing in the day. So, at least it wasn't just me, but I'd put my situation a little more serious than that of a contractor needing an urgent approval.)

20% Off

Holiday Shopping
I figured nothing could go worse than it already had. Let's try to see if just possibly   we could actually end the day on a positive note. I got the brilliant  idea of calling PGE to tell them I had a gas leak  and -maybe just maybe- I'd get a nice guy or gal to come out who might feel sorry and   turn on the gas and pilot light for me.
That would still be a long shot and  I'm about ready to head out to Ace Hardware to buy some space heaters since at least I now have electricity in the house.
FINALLY , AT 6 pm the inspection report finally  surfaces
But first I  decided   to try that  'something different' –can't hurt- and maybe my most brilliant strategy yet. I'd called at least the fifth time today and fourth this afternoon.  Three times since the inspection report and none of them say they have seen the inspection report come through which would allow the gas turned on.  Before finally getting PGE to have someone come out to check the 'leak'  I thought I 'd try one more time to see if just maybe the inspection clearance finally came through. Would you believe that , sure enough, an hour and a half after the inspector emailed the report it finally showed up. But now, more RED TAPE would force the PG E PHONE guy to have to schedule a second person to come out as they still had to keep the gas leak check for the  first guy and wouldn't allow him to do two things!  At this rate it would be midnight, perhaps, until all is done, with no assurance I'll even get the gas going on this day  when Murphy's Law was working   at it's best- or worst.
TWO 'MIRACLES' IN ONE DAY!
Finally, that positivity I was looking for was coming around. Lo and behold, the PGE  guy who came out
1)actually DID find a leak, which I wasn't expecting, so that was a bonus , and
2) after some real technical leak repairing , and hearing my sad tale he said he would call his supervisor for permission to turn on the gas(!) and start the pilot lights, which he did, but only after first telling me I'd need a plumber(?) to further inspect the house after the fire. Somehow that strange comment went by the wayside and by 7 pm I had gas and heat again…and he even set the heat option on the water heater and then came in the house to check the dryer to make sure it wasn't gas or he would start that pilot light. I told Ken you must really like your job or like people. He said 'both' and I gave him some christmas cookies and million dollar bill and offered a $50 check as I had no cash, but he refused the real money   saying he 'couldn't take it.'  More hope for humanity and some warm indoor weather so  I might be able to sleep tonight –and Ornji  might have a chance.
TUESDAY MORNING- Life Gets Easier
Now things are coming together. The wonderful restoration cleaning crew has cleared everything from the garage, painstakingly boxing and tracking every item for insurance purposes while boxing others to take back for special drying what items can be saved and throwing out the rest. They remove the sheet rock tomorrow and , right now, late at night the drying machines are blasting away in the garage – something that is a bit unsettling after the fire, to say the least. But life goes on. Yes it does.
…and everyday since cleaning crews have come back for the next projects. The garage is clean again – and I even discovered space above where the plaster board covered that I can use for more storage space (above the garage.)  This and the newly discovered attic will give me a lot more storage space  I would have never known about if not for the fire; so some little 'bonuses' are developing as a positive from of the fire.
THAT INANIMATE OBJECT THAT SAVED THE DAY
No doubt by now you've figured out the inanimate object that performed better than all of the humans put together was that little fire sprinkler  that was above car and other three sprinklers in the garage. Again, I never had them tested for reasons beyond my control (i.e. few residential sprinkler companies and none would come out) , so I didn't know that they would really work if and when needed. They came through and I will always respect these inanimate objects so easy to take for granted.
Even the local media got this part of the story right, despite trying to give partial credit to the fire department. Again, the fire was OUT well before the fire fighters finally arrived after taking much longer than they should have.
CONTRACTORS  Next  to Fix More Issues – and Finishing Up Process that Could Be Weeks and Months
Next was contacting contractors for estimates to re-finish the garage, replacing the sheet rock and painting it while subbing out the electrical issue resulting from the fire that has prevented half my plugs from working. Then there's the non-functioning garage door that should also get fixed. Meanwhile, my still –running KIA SOUL remains parked outside while the garage is repaired. After contractors are done, which may be weeks or months , the restoration crew will come back with boxes and boxes of all the contents that was in the garage.  A few trips for new garage shelving from Home Depot before that. At least insurance is paying for most of this (I already got my first insurance check!).  Meanwhile, my old non-working 'Car-huna' is being brought back to life ; I hope to visit him in the car hospital this week and see his new wheels and tires.
But, it's all good.  We're still here, will have a new, clean garage which insurance will cover. Yes, I lost some collectibles but hopefully most others will be salvageable after the drying process is finished.  Each day I think how lucky I am and what could have been. I  don't  get upset anymore when little things go wrong; I've learned to laugh them off , learn by them and check them off to life's experiences and even adventures. No boring life around here, LIFE being the key word. I hope to keep it that way. And we LEARN from our mistakes…If I ever  charge  cars again I will stay close by with a LARGE fire extinguisher on hand. 
BEST FOR LAST: ORNJI FLOURISHING THROUGH IT ALL
As noted, even the old Chrysler will be back, even after nine mechanics discouraged me from trying to restore it due to the front end massive destruction, I did decide to go with the tenth guy who promised to repair it for about half the cost of the others . The moral on this one is 'DON'T GIVE UP TOO SOON,'
But the best news last , which I've neglected while reporting the firey  details, is that Ornji cat is doing as well as ever.  He's become my  No.1  important 'project' even before the fire in an effort to make his remaining days (and my days with him) happy ones.  The fire, two freezing nights and a lot of noise from the workers, didn't seem to phase him and our daily routines are working out great. In fact, there's Ornji (*below) back outside in his 'extension crate' enjoying the afternoon .   Our routine discussed in the previous chapter , 'Borrowed Time' has only been enhanced and developed with time and patience.  Now Ornji has adjusted full time to his room, seeming to enjoying it's many features and perks rather than sleeping in my bedroom closet or bathroom, away from everyone. Now, Ornji is part of the 'gang' and is out three or four or more times a day to visit and enjoy… the outdoor 'extension', spending time only feet from me in my desk window – and still running back and forth down the hallway . The decision to give Ornji chemo seems to have been a good one for both me and Ornji, as outlined in 'Borrowed Time.'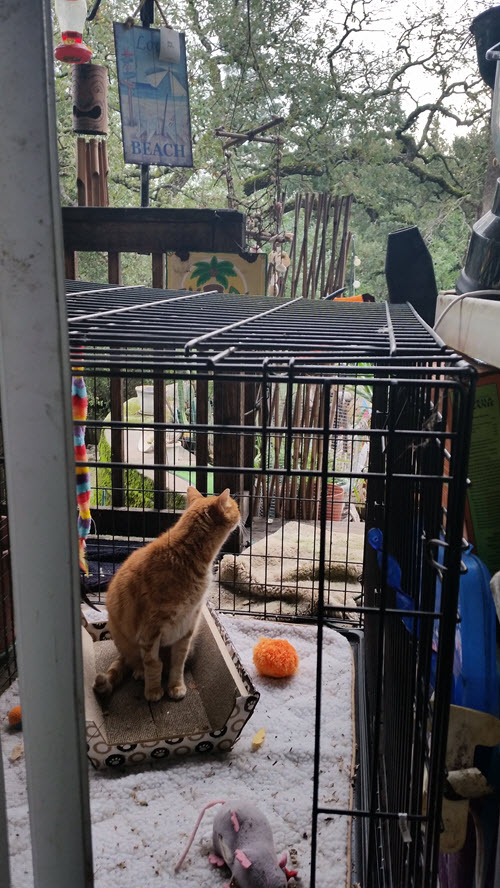 Dec. 15 – Ornji spending the late after noon outside – already more than an hour – despite the cold, overcast weather…Living better now than when we were still taking life and time more for granted
JUST A SAMPLE OF OUR DAILY ROUTINE, outlined more at length in 'BORROWED TIME':
It all begins at 5 am each day with first feed (as noted).  My own sleep patterns  may have been altered but I don't mind sacrificing to see more of Ornji while I can, savoring the moments while sharing a cat's life; I admire Ornji's  self-sufficiency and other cat traits.  Besides , it's better to go to bed earlier, and Ornji has had that positive affect on me among his other 'teachings.'  It's so cute to see him lead me  to his  hall room for food or by the screen door when he wants to go out, or to see come over to me to get brushed – he  never used to do that – and even climb on the desk and visit with me while I work.  Meanwhile, Ornji still gets his favorite foods three or four times a day along with his fish-flavored meds in liquid form. (Did you know it's a misnomer that cats like fish more than other meat, according to Dr A  (one of many things we learned form him), though Ornji definitely likes his seafood).  His next , fourth(?) chemo will be tomorrow, Dec. 15, as we'll meet up with the good doctor and see what he has to say, not dreading it but appreciating the extra month  we've already been able to share.
Going with the chemotherapy option has been a rewarding experience,  for sure, while  making the most of each day. Don't know how Ornji would have done without chemo, but this gives him at the very least as long – probably more time and QUALITY TIME – than without it. To see Ornji enjoying life again, at least for awhile, was my goal and we'll continue as long as possible savoring these BONUS DAYS on BORROWED TIME as the fire fades from memory. (It was 'only' a fire and the events surrounding it were nothing more than   a life  adventure we will never totally forget that we enjoyed sharing with you folks in these here pages). And, it's not over… we'll report back on Ornji, the '63 Chrysler as it, too, enjoys a rebirth along with the house and Ornji and me (and don't forget Zack).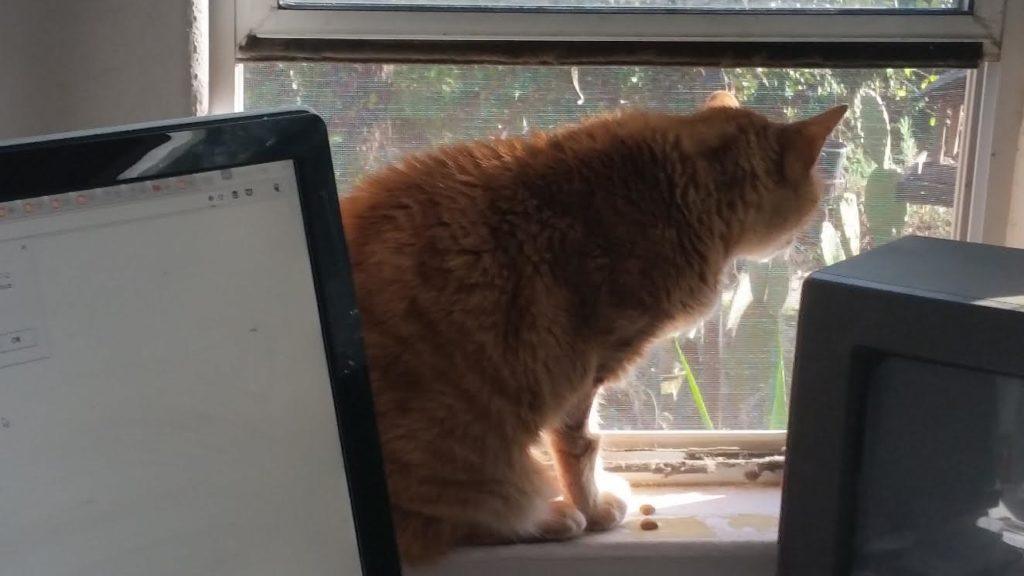 Sharing one of our /my favorite moments with Ornji visiting 'in the window' while I work

For More on Ornji…
Living Life to the Fullest