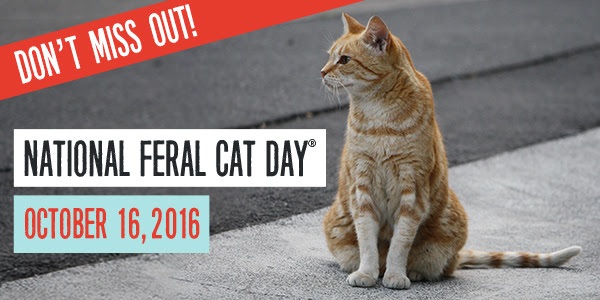 NATIONAL FERAL CAT DAY
Never too late to help a feral cat–  Feed, shelter or even try to adopt….and enlist friends others to do same
FREE POSTER

– ABOUT NATIONAL FERAL CAT DAY®
Here is everything you need to know about National Feral Cat Day® and its history! You can use these facts about National Feral Cat Day, community cats, and Alley Cat Allies in interviews, letters, and press releases. Print the National Feral Cat Day 2016 poster to use at your events.
National Feral Cat Day Facts
Alley Cat Allies launched National Feral Cat Day on our 10th anniversary in 2001 to raise awareness about feral (also called community) cats, promote Trap-Neuter-Return, and empower and mobilize the millions of compassionate Americans who care for them.
National Feral Cat Day is observed on October 16 every year.
The theme for National Feral Cat Day 2016 is "All Cats All Communities"
This year's poster features real cats with real stories that embody the "All Cats All Communities" theme! Meet our poster cats: Inky, Pearl, and Pie!
More people respond to the call to action and celebrate National Feral Cat Day every year. Since 2011, more than 2,773 National Feral Cat Day events and activities have taken place—spreading the word and helping cats all over the country and the world. We can't wait to reach even more people with National Feral Cat Day this year!
Feral Cat Facts
Cats have lived alongside humans for more than 10,000 years. They are part of the natural landscape. Feral cats, also called community or outdoor cats, are the same species as pet cats, live in groups called colonies, and can thrive in every landscape. They are just as healthy as pet cats, but they are not socialized to humans and are therefore unadoptable.
Trap-Neuter-Return is the only humane and effective approach to caring for community cats and stabilizing the cat population. From 2003 to 2013 the number of local governments with official policies endorsing TNR increased tenfold, with hundreds of cities and towns successfully carrying out TNR programs. That number continues to grow every year.
In many cities, cats are still caught and brought to animal shelters and pounds, where most are killed. In fact, the shelter system is the number onedocumented cause of death for cats in the United States. About 70% of cats who enter shelters are killed there, and that number rises to virtually 100% for feral cats. That's why it's so important for people like you to join us for National Feral Cat Day®, and every day. Together, we can change policies and create compassionate communities for cats.
There are so many ways to help cats—on National Feral Cat Day® and year-round. These actions are at the core of what makes National Feral Cat Day so effective. Need inspiration on what action you can take this year? We're here to help!
Whether you decide to host a spay/neuter clinic or write a blog post about community cats, be sure to register your action online to show the world how you're getting active for National Feral Cat Day. Don't forget: when you register you'll receive a kit full of goodies in the mail!
Adopt a Cat
Save a life! Visit your local shelter or rescue and adopt a cat waiting for her forever home.
Build Outdoor Shelters
Outdoor cats appreciate shade in the summer and warmth in the winter, so making an insulated house for them is a great, hands-on project. Build a couple of shelters yourself, or partner with a hardware store and host a workshop to teach a group of people how to build shelters to help even more cats! You can invite local community cat caregivers, charge a materials fee, and hold demonstrations. Have instructors walk around and help, and give caregivers copies of building instructions that they can use year-round.
Use our shelter building instructions and find more shelter options.
Celebrate a National Feral Cat Day Proclamation
Get your local government involved to officially announce October 16 as National Feral Cat Day in your city or county. See our proclamation sample, and be sure to let us know about your proclamation by sending us a copy via fax: 240-482-1990; email: [email protected]; or postal mail: Alley Cat Allies, 7920 Norfolk Ave, Suite 600, Bethesda, MD 20814-1515.
Conduct a Trap-Neuter-Return Project
Trap-Neuter-Return improves cats' lives! You can bring Trap-Neuter-Return to your community whether you're an individual, animal welfare group, or shelter.
Individuals: See our step-by-step guide on how to do Trap-Neuter-Return at alleycat.org/TNR
Groups and Shelters: If you've ever thought of doing TNR, now is the time to start! If you already have a TNR program, why not expand it to help even more community cats? We have the information to get you started! Learn how to conduct TNR and get more information on how to implement an organizational TNR program.
Donate to Alley Cat Allies
Our mission is to protect all cats in all communities. Your donation will help us save even more cats and transform more communities around the nation. Donate online at alleycat.org/donate.
Engage and Educate Neighbors
Use our materials to start a conversation about cats in your community. You can bring our educational materials to upcoming public events—like fairs or festivals—or set up a booth in public places like libraries, grocery stores, or malls.
Get our brochures and truth cards.
Wear your National Feral Cat Day gear.
Hang posters or place advertisements.
Engage and Educate Veterinarians
Veterinarians are experts on pet cats, but they may need some education about community cats and Trap-Neuter-Return. Talk to your veterinarian and share ourVeterinary Resource Center information.
Are you a veterinarian? We have resources just for you! Check out alleycat.org/Veterinarian for the latest information and research about cats. If you're the resident community cat expert, consider joining our Feral Friends Network. When you join, you can get connected with potential clients looking for spay/neuter and community cat care services.
Foster
If you can't take in a new cat permanently, why not take one in until she finds a forever home? Fostering is one of the most rewarding experiences you can have. Connect with your local shelter or rescue group to volunteer as a foster.
Fundraise
Raise money to help cats by offering items or hosting an event. Whether you organize a bake sale or a gala, every dollar helps. Connect with local sponsors and hold a fundraising event for your local Trap-Neuter-Return program, for Alley Cat Allies, or both! Have a National Feral Cat Day themed party! If you own a business, dedicate a portion of the day's proceeds to helping cats. Challenge coworkers and friends to a friendly competition to raise the most money for TNR and other cat-saving programs.
Host a Vigil
Honor the memory of cats who have died and call attention to the issues cats face. Gather your family, friends, and community members together with white roses or candles, print photos of the cats you're memorializing, and prepare to say a few words. You might even consider inviting the media.
Host an Adoption Event
There are so many friendly cats who need loving homes. Rescue groups, shelters, and individuals can find these adoptable pets forever families.
Groups and Shelters: Use National Feral Cat Day to promote your adoptable cats. Get creative!
Individuals: If you're fostering, check out our tips for finding adoptive homes for friendly cats. Also consider volunteering for your local rescue group or shelter to help promote cats for adoption. Spreading the word, writing creative descriptions for cats, and taking great photos all help find forever homes!
Host a Community Workshop/Other Humane Education
Help educate your community, friends, and neighbors about cats by holding an informative workshop about community cats and Trap-Neuter-Return. Learn how to run a Helping Community Cats workshop or invite community members to a viewing of one of our recorded webinars.
Host a Microchip Clinic
Microchipping helps reunite lost animals with their caregivers. Veterinarians, rescue groups, and shelters: host a microchipping clinic to help community members get their cats (and dogs!) chipped and registered.
Host a Spay/Neuter Clinic
Make a huge difference in the lives of cats by providing low-cost or free spay/neuter services to your community. Veterinarians, rescue groups, and shelters:learn how to run a high-volume, high-quality spay/neuter clinic.
Host a Vaccination Clinic
Vaccination is key! Veterinarians, rescue groups, and shelters: protect cats and the community with low-cost or free vaccinations in honor of National Feral Cat Day.
Meet with Government Officials
Talk to your elected officials about community cats, their caregivers, and the benefits of Trap-Neuter-Return.
Meet with Shelter Officials
Start a conversation with your local shelter officials about ways to save more cats. Find information at alleycat.org/HelpShelters.
Organize a Cat Food/Supply Drive
Rescue groups, community caregivers, and pet owners can always use more food and supplies for their cats. This is one of the simplest and most effective ways to offer assistance! Grab some friends and volunteers and set up drives for cat food and other supplies. Ask your local pet or grocery stores if you can host your drive there.
Organize a Marathon or Walk-a-thon
Make a visible difference and raise funds by setting up a marathon or walk-a-thon in your city or county. Choose a course, wear your National Feral Cat Day gear, and enlist your friends, family, and community members to run or walk for cats. You can even get sponsors to help raise funds for your local TNR group.
Organize a Neighborhood Cleanup
Spread the love in your community by beautifying the spaces that cats and people share with a neighborhood cleanup. Pick a location and invite your friends, family, and community members to come. Supply or ask people to bring trash or recycling bags, work gloves, tools like shovels or rakes, and seasonally appropriate attire. Cleaning up your community will make both cats and people happy!
Organize a Rally
Many voices are louder than one. Show the world how many people are standing up for community cats. Wear your National Feral Cat Day gear, print signs, and consider inviting the media to raise awareness for local or national cat issues.
See pledges, petitions, and national actions you can use as rallying points.
Other
Do you have a unique idea? Be original and host a one-of-a-kind event!
Participate in Community Cat Care
Give some extra TLC to the cats in your community by providing food, water, shelter, and care. You can find our tips and best practices for community cat colony care at alleycat.org/ColonyCare.
Set Up an Information Booth or Table
Hand out our educational materials and use our talking points to start a conversation in your community.
Get our brochures and truth cards.
Wear your National Feral Cat Day gear.
Hang posters or place advertisements.
Share or Write a Post on Social Media
Get the word out online! You can quickly spread the word about community cats and Trap-Neuter-Return on social media with a blog, tweet, or other post. See our Social Media Toolkit for ideas and inspiration!
Submit a Letter to the Editor
Get cats in the news by raising awareness for community cats and TNR in your local paper. Write a letter to the editor of your local paper to educate readers about National Feral Cat Day, community cats, Trap-Neuter-Return, and the lifes-saving work being done by Alley Cat Allies or your local group(s).
See examples of letters to the editor.
Visit Your Local Shelter or Animal Control Office
Get to know your local animal shelter and animal control. It's the first step in learning about what happens to cats and how you can all work together to save more. Knowing where your local shelter is, what resources they offer, and familiarizing yourself with their policies and protocols (ex, what to do if your cat is lost or impounded) is helpful. If you discover your local shelter or animal control could use help embracing humane, lifesaving policies we have information to help:www.alleycat.org/Shelters.
Volunteer
Help cats by volunteering with a local rescue group or shelter. This is especially fun if you're socializing kittens! Connect with your local rescue groups or shelter to see if they need help or join our Feral Friends Network.
Write a Letter to an Elected Official
Whether it's about pending legislation or just touching base, let your elected official know that cats matter when it comes to your vote, and that you support humane policies for cats.
Alley Cat Allies Facts
Founded in 1990, Alley Cat Allies is the only national organization dedicated to protecting and improving the lives of cats.
Over 600,000 people worldwide support Alley Cat Allies and champion our mission to protect all cats.