Meet FRANK, L & J's New Blue-Eyed Beauty!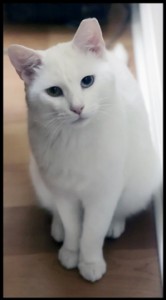 After losing their beloved "Murphy' (below), Leah and James of Indianapolis, IN welcomed 'Frank' (at left) into their lives on Mothers Day. Frank was known as 'Blue Eye' at the Indianapolis SPCA, where he came from –  for his one outstanding  blue eye, but L and J call him  Frank now, after another gu famous for his blue eyes. That's right, Frank is one of those rare cats as two different colored eyes, the other being yellow.  Initial lreports are that the long wait was worth it as L and J are enjoying Frank, as, know doubt he is liking his new home and parents.
Yes, that's Murphy, the late, great – who actuall , really , truly joined L and J for dinner in his high chair! Not surprising that Jim , who took these great pictures , is a professional photographer  at the local newspaper. Thanks L and J and F  for caring and sharing . ENJOY!