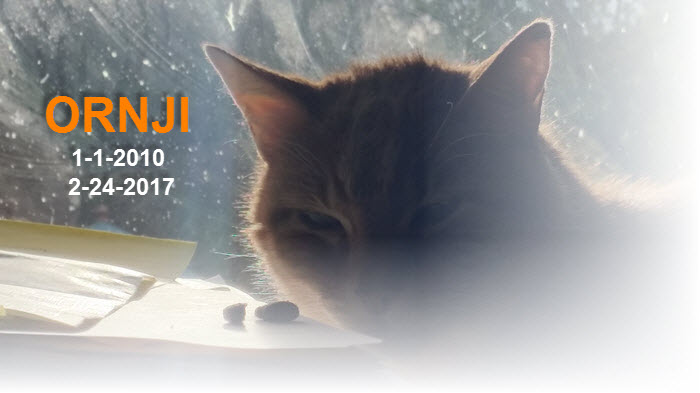 ORNJI CAT  HAD IT ALL TOGETHER – He had his agenda for  each day, Knew What He Wanted and Did It – DESPITE HIS ILLNESS

This is about the hardest thing I've ever had to write. But we want to share our wonderful Ornji-Cat with those who knew him and others.
10 WAYS ORNJI IMPROVED MY LIFE
[table id=3 /]
Ornji was ( and still is in our hearts) the sweetest , smartest cat who made life a joy knowing so well how to communicate with us from beginning to end. Like that very first  day, when Ornji suddenly  came out of nowhere, walking up to our house on St. Mary's Road and directed me down to the back basement door  where he indicated he wanted to  live (which he did for three years before becoming a full time indoor cat).  Ornji let us know with just a look if he liked a cat food we placed in front of him or not – which became most helpful near the end.  Ornji was a born leader. Though Zack is older and had been here longer , Ornji seemed  to take the reigns yet relinquished them to Zack at times and they enjoyed innocent short boxing matches with each other 'til the last day.   I could go on about the many, wonderful  things we all 'packed in' during our short time together with Ornji including the early morning desk play.  (You can read some of that, if you like,  in the first six chapter posts at www.FavoriteFurryFriends.info

                Yes, it is with greatest sadness we must report that Ornji left us Friday night, February 24, 2017,   three  and a half years after he changed our lives forever- for the very best.  Just a day after a nice visit with our good Dr. A and receiving a surprisingly improved medical evaluation – all but the enlarged, inoperable, liver–  Ornji  once more gave us  direction, this time that it was finally time to say good -bye but only after many Happy Days together.
Ornji came into our lives like an angel. Just as we were about to lose senior cats Weepy (18) and April (20) October, 2012 , as well as  Dad, along comes Ornji  a few months early to fit in nicely as our 'outdoor  cat' living in the expansive basement, with severall beds, many toys and even an occasional live rat, which he eradicated for us on more than one occasion.  Ornji got to know Zack thorugh the  window and would later get to become good buddies together , inside, when Ornji got sick and became a full-time indoor cat. No doubt this will be hard for Zack, too, who often preferred to sleep in the same room with Ornji, more than with me .
Naturally, we're totally devastated, Zack and me. Just a day after visiting the vet and finding Ornji's lab results and weight were all 'up' and we were looking to another good string of days together,  we got this sudden surprise. But this is what happens in life, yet it only came after many months of  'bonus days' for which we are very grateful. How could we not be appreciative to Ornji and the medical experts who enabled these extra quality days.  After all, it wasn't until the very last night that Ornji displayed any real concerns. He'd been eating well,  going to the bathroom and even taking in the sun form his beloved indoor-outdoor extension, below
Ornji taking in the morning sunshine from his beloved 'outdoor extension' 2-24 -17 – now double-wide including loungers, toys and pet grass
Knowing Ornji's days were numbered, due to this now inoperable-liver cancer, we really spent most of our time     together and really got to know each other, like never before.  Every day was spent with different activities, whether it be going into the indoor-outdoor cat extension and then 'double-wide' while taking in the sun (I would go around outside to join Ornji , with morning paper and coffee –perhaps Ornji's favorite activity he enjoyed right up to and including his last day.  Ornji was an outdoor cat , by nature, sometimes wanting to go out even in the middle of the night until the brought him in- and the outdoor featured really enhanced his last years and ppossibly helped extend his time with us. (I recommend it for anyone with cats who tend to be outdoor by nature :Just fashion a large crate or two with opening against patio door – but be sure to put a screen panel atop the crate so cats can't jump up and over the crate to REALLY get outside.
Ornji spent the last year trying to beat the impossible: liver cancer, brought on by being HIV positive with  weakened immunity , no doubt from living on the streets before he walked up to our house   9-11-2012. That was one of the happiest days of my life –  to gain another , wonderful orange cat (like our first, Juicy) and new brother for Zack (as April and Weepy would pass in the next months). For a while we Ornji was starting to make us think he us he was going to beat the unbeatable disease.

Ornji had three great years as an indoor-outdoor cat and just as he was coming into his own as an indoor cat (with outdoor extension) and part of the group his full life was taken away, much like our first four cats as well as my brother and sister. Had Ornji lived a full, natural life it probably wouldn't be so hard but to have another cat go prematurely, along with the cumulative affect of losing so many, makes it harder.   Ornji made life easy, never complaining or even letting on to us that he was sick, except those few occasions when he didn't want to eat, which he would soon overcome; there was no suffering in the end – other than his  listlessness, a casual observer wouldn't have known Ornji was   sick.  But, after talking to our doctors including an ASPCA hotline doctor we elected not to see Ornji  suffer what would have likely been a worse fate had we waited another day to say good by. Though Ornji had bounced back so many times before there was just something this time telling us Ornji was 'tired,' as Dr L put it and ready to cross that Rainbow Bridge, where, hopefully, we'll all meet up again one day. Unlike many cats that will hide Ornji was different; he still wanted to be with us, as he spend his last hours in the hall , in full view, by his room and creature comforts.
But Zack and I will soldier on, maybe try to get away from this sad place (right now) if Zack will cooperate at being the travel cat  Ornji WAS (Ornji never minded –even seemed to enjoy – is many short   10 mile trips to the Walnut Creek vet..)   So, we had three and a half great years with Ornji – which , after all , was three years longer than I had with any of our first four cats.
So , I/we are grateful to have had Ornji with us as long as we did.  After Ornji continued to confound the doctors by far outliving their expectations, I began dreaming that Ornji would be the first cat to beat full-blown liver cancer; if anyone could it was Ornji. And , we made every effort  to make Ornji's days the best possible, even allowing Ornji to continue to  enjoy the outdoors after become an indoor cat via our specially-fashioned 'indoor-outdoor extension' ; there Ornji would enjoy  hours most days in the bright , warm , sunshine – including his very last day February 24. If Ornji had to go so soon it was nice to see him go out In style, the way he wanted to – still enjoying life and not suffering.  One thing that probably accounted for Ornji so long with cancer –he probably had it for over two years, maybe even when first coming to our house- was that he wasn't fearful; of course we tried to spoil Ornji in many ways, especially with his HIV status in mind, including keeping  the gardners away with their lawn blowers and such, but noises and little things didn't bother him.
Yes, I believe the quality of life was still there until the last hours when Ornji once again communicated that we could and should now 'let him go ' as he  lay listlessly in front of us as if sleeping. Now he is asleep at peace.
Maybe one day , when the time is right, another Ornji-type will come along and help fill this real void we're feeling right now.  Of course, no cat will replace Ornji and we're in no hurry, as we go through the grieving process, during which we will  savor Ornji's   many great qualities and contributions Ornji added to  our lives just as we savored the past four months.  But it will be much different without him .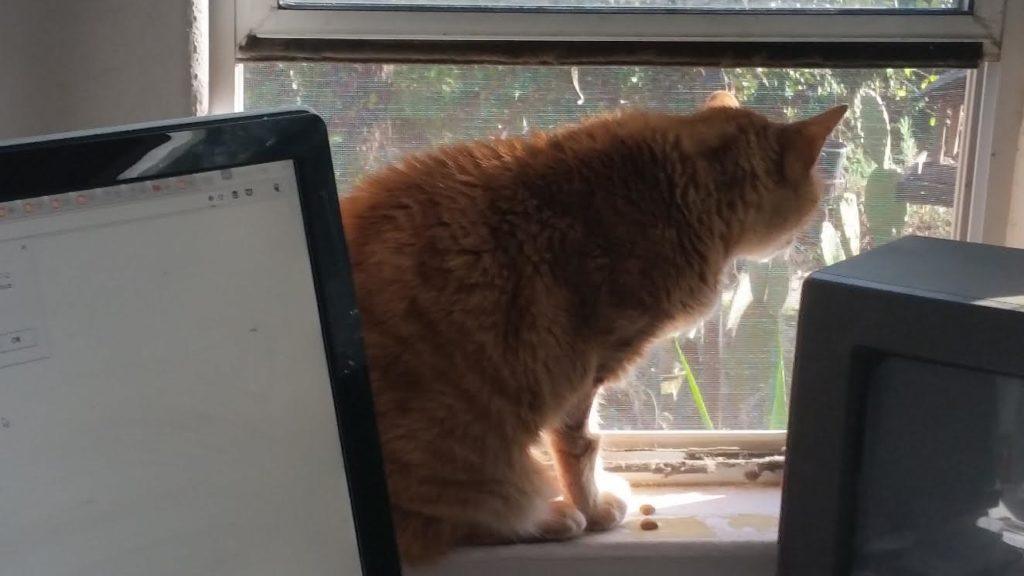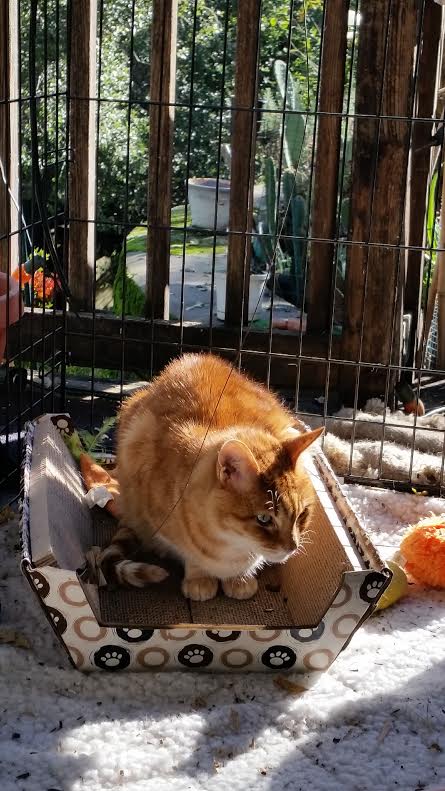 10 Ways Ornji Improved My life
[table id=4 /]
One Last Hurrah for Ornji- Cat As He Goes Out The Way He Came In – All Class